Rip cd to mp4 : mp4 ripper, cda to mp4 converter free download online
How to rip cd to mp4:

cda to mp4 converter, install it and run.
Select the tracks to be ripped.

Firstly, you should select the tracks you want to rip. To do so, insert the audio disk into your CD-ROM drive. The main window will refresh and display the listing of all tracks Audio Transcoder finds on the disk. For each track record on the list, you can see its number, length and size. Audio Transcoder can download disk details from the online database - FreeDB. Simply insert the disk into CD-ROM and it will go online and download the CD details automatically (if available).

Now, you can select the audio tracks to be ripped. Simply tick the checkboxes of the desired tracks. See below:




Once the files are selected, the next step is to select the output settings.

Customize output settings.
The second step is to select the settings for the output files. You should set the path to the output folder, choose the output filenames, specify the audio format and sound quality. By default, the program will save tracks as MP3 with near CD quality. Audio Transcoder offers you a rich choice of output formats, including aac, ape, flac, mpc, mp3, mp4, ogg, spx, wav, wma. The sound quality is also customizable with many presets from 8 kb/sec to CD quality.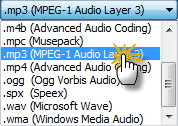 Once all the settings have been customized, you are ready to rip the disk.

Rip the audio CD disk.


Ripping the CD disk is as easy as clicking the Rip CD button. When the process begins, you'll see the Progress window below:




In the Progress window, you will find two handy controls. The first is the Encoder Priority switch that allows you to change the priority of the process and set it to any of the three modes: Idle, Normal, High. The process priority can be changed during ripping.

Audio Transcoder supports the following conversions with CDA format files: