Sorry translation is not available for this page.

Convert mac to wma : mac to wma converter, mac2wma convertor free download online
How to convert mac to wma:

mac to wma converter, install it and run.
Select the files for conversion.
The first step is to select the files for conversion. Run and use the Folder Explorer to browse to the files you want to convert. Then select the file in the File List, drag it to the Drop Zone and drop it there.
Optionally, the program allows you to edit the audio tags of any selected file in the Drop Zone.




Once the files are selected, the next step is to select the output settings.

Select the output settings.

The second step is to select the output settings. To begin, select the folder to save the output file to and choose the action to be executed if the output file already exists - create a new file, overwrite or skip the existing file.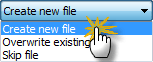 You can also set the program to delete a source file after conversion and preserve the the original folder structure, when doing batch conversion.

Finally, you should select the output format and audio quality.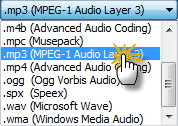 Once the output settings are customized, you go to the final step - conversion.

Convert the audio file(s).

To start the conversion, click Convert. A conversion dialog will appear to show the progress of conversion.




During the conversion, you can change the priority of the process or set an automatic event to be executed when the conversion is over. After the conversion has finished, you can find the files in the output folder you specified.
Audio Transcoder supports the following conversions with MAC format files:

WMA format: Windows Media Audio (WMA) is the name of a series of audio codecs and their corresponding audio coding formats developed by Microsoft. It is a proprietary technology that forms part of the Windows Media framework. WMA consists of four distinct codecs. The original WMA codec, known simply as WMA, was conceived as a competitor to the popular MP3 and RealAudio codecs. WMA Pro, a newer and more advanced codec, supports multichannel and high resolution audio. A lossless codec, WMA Lossless, compresses audio data without loss of audio fidelity (the regular WMA format is lossy). WMA Voice, targeted at voice content, applies compression using a range of low bit rates. Microsoft has also developed a digital container format called Advanced Systems Format to store audio encoded by WMA. Even though Microsoft claims it is able to deliver the same quality as MP3 at half the bitrates, that statement is certainly false. A more realistic number would be same quality at around 25% smaller bitrates - and that applies to low bitrates only. At 128kbps, it is easily beaten by Lame.