Sorry translation is not available for this page.

Convert mac to m4r : mac to m4r converter, mac2m4r convertor free download online
How to convert mac to m4r:

Audio Transcoder allows you to convert an audio file to another format in three easy steps.


mac to m4r converter, install it and run.
Select the files for conversion.
The first step is to select the files for conversion. Run and use the Folder Explorer to browse to the files you want to convert. Then select the file in the File List, drag it to the Drop Zone and drop it there.
Optionally, the program allows you to edit the audio tags of any selected file in the Drop Zone.




Once the files are selected, the next step is to select the output settings.

Select the output settings.

The second step is to select the output settings. To begin, select the folder to save the output file to and choose the action to be executed if the output file already exists - create a new file, overwrite or skip the existing file.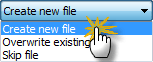 You can also set the program to delete a source file after conversion and preserve the the original folder structure, when doing batch conversion.

Finally, you should select the output format and audio quality.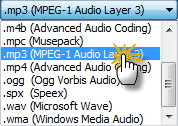 Once the output settings are customized, you go to the final step - conversion.

Convert the audio file(s).

To start the conversion, click Convert. A conversion dialog will appear to show the progress of conversion.




During the conversion, you can change the priority of the process or set an automatic event to be executed when the conversion is over. After the conversion has finished, you can find the files in the output folder you specified.
Audio Transcoder supports the following conversions with MAC format files:

M4R format: MPEG-4 Ringtone is commonly known as M4R, which is an audio file extension mainly associated with Apple's iPhone. It is a propriety file extension created exclusively as a ringtone for Apple devices – iPhone. Belonging to the MPEG-4 group, this audio file type contains numeric representations, audio files and text in ASCII format. Basically M4R file extension is used only to differentiate ring tones from songs in iPhone, but otherwise it is exactly the same format. The only difference is that most M4R files are copyright protected thru DRM. Some says M4R is a renamed version of M4A, this can be true especially when you look at the file's lossy algorithm. The maximum length of m4r ringtone must be max. 40 seconds.