Convert mac to mp3 : mac to mp3 converter, mac2mp3 convertor free download online
How to convert mac to mp3:

mac to mp3 converter, install it and run.
Select the files for conversion.
The first step is to select the files for conversion. Run and use the Folder Explorer to browse to the files you want to convert. Then select the file in the File List, drag it to the Drop Zone and drop it there.
Optionally, the program allows you to edit the audio tags of any selected file in the Drop Zone.




Once the files are selected, the next step is to select the output settings.

Select the output settings.

The second step is to select the output settings. To begin, select the folder to save the output file to and choose the action to be executed if the output file already exists - create a new file, overwrite or skip the existing file.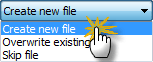 You can also set the program to delete a source file after conversion and preserve the the original folder structure, when doing batch conversion.

Finally, you should select the output format and audio quality.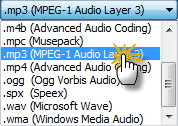 Once the output settings are customized, you go to the final step - conversion.

Convert the audio file(s).

To start the conversion, click Convert. A conversion dialog will appear to show the progress of conversion.




During the conversion, you can change the priority of the process or set an automatic event to be executed when the conversion is over. After the conversion has finished, you can find the files in the output folder you specified.
Audio Transcoder supports the following conversions with MAC format files:

MP3 format: MPEG-1 or MPEG-2 Audio Layer III, more commonly referred to as MP3, is an audio coding format for digital audio which uses a form of lossy data compression. Its lossy algorithm was developed in 1991. It is a common audio format for consumer audio streaming or storage, as well as a de facto standard of digital audio compression for the transfer and playback of music on most digital audio players. MP3 is an audio-specific format that was designed by the Moving Picture Experts Group (MPEG) as part of its MPEG-1 standard and later extended in the MPEG-2 standard. It is a method to store good quality audio into small files by using psychoacoustics in order to get rid of the data from the audio that most of the humans can't hear. MP3's bitrates vary from 8kbps to 320kbps. A typical MP3 file encoded at 128kbps is near CD quality. MP3 audio is increasingly being used in video production coupled with various MPEG4 video codecs like divx. Almost every hardware or software player available can handle MP3 files. So, if you want to enjoy your favorite music anytime and everywhere you should use the files with MP3 file extension.